It's the floor that does it all – it's cost-effective, handles water well, and feels soft and warm on your feet. What's more,
vinyl is a beautiful, modern floor for your home.
We offer premium vinyl flooring that has built-in stain resistance and anti-scuff protection, making them a great
fit for homes with pets or young children. Cleaning and maintenance are simple because vinyl is water resistant, retains
pigment, and does not fade over time.
When it comes to vinyl, it pays to stick with quality. We avoid thinner vinyl planks, as they do not offer enough stability & integrity and results in premature failure. Ensure you work with a preferred & trusted company who uses quality vendors and materials.
Options for Vinyl Flooring
Vinyl Plank – 100% water resistant, this commonly used flooring option blends durability with a beautiful look.
Vinyl Tile – An excellent choice for heavy traffic areas, it offers a warmer and softer alternative to traditional tile flooring.
Vinyl Sheet – Perfect for kitchens and bathrooms, this water-resistant vinyl flooring offers the perfect mix of style and performance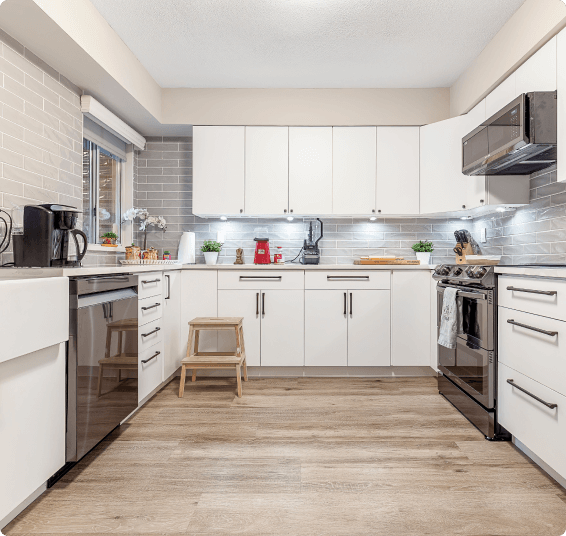 What are the Key Strengths of Vinyl Flooring?
Vinyl plank flooring is becoming an increasingly popular choice for residential and commercial spaces due to its easy installation, affordability, and wide range of styles. Reasons include:
Vinyl floors can endure heavy wear and tear, making them suitable for high-traffic areas. Vinyl is often a popular choice for restaurants and retail environments with heavy traffic and aesthetic requirements
Vinyl planks are completely waterproof, making them an excellent choice for moisture-prone areas. Vinyl flooring can be safely cleaned by a mop.
Vinyl planks can be installed over radiant heating systems, allowing you to enjoy a warm floor in the wintertime.
Premium vinyl planks are scratch and dent resistant, making them an excellent option for busy households with pets or kids.
Hundreds of Choices - Come to Our Store and See
No matter what the design of your home, we carry a large selection of fibre floors, vinyl planks and vinyl tiles to suit every look. Come to our showroom to look at all the options in person.