Solid Hardwood Flooring Experts in Metro
Vancouver
Hardwood flooring offers an attractive and low-maintenance choice that lends a sense of permanence to your interior
design. With several quality flooring options to choose from, you can easily achieve a rustic, contemporary, or eclectic
aesthetic in your home.
Solid hardwood flooring is easy to keep clean. A timeless flooring option, hardwood flooring adds character, depth, and
elegance to your home for 15-20 years of use. Hardwood floors, if properly maintained, keep their resale value over long
periods of time.
What is Solid Hardwood Flooring?
One of the most commonly chosen types of flooring is solid hardwood flooring,
which is composed entirely of wood. It is typically crafted using hardwood varieties
such as oak, maple, or walnut and is distinguished by its lengthy lifespan, affording
numerous opportunities for sanding and refinishing.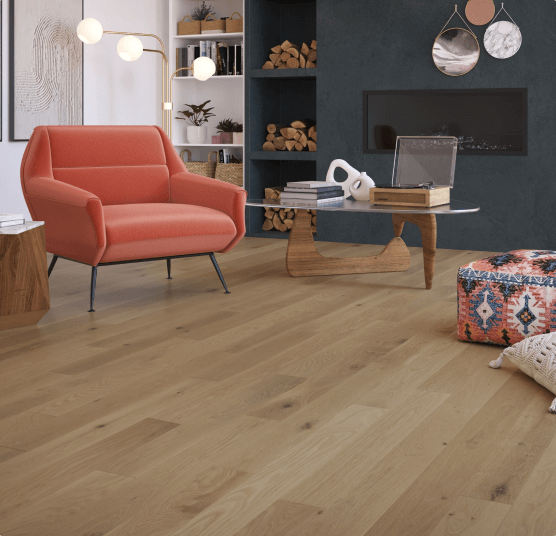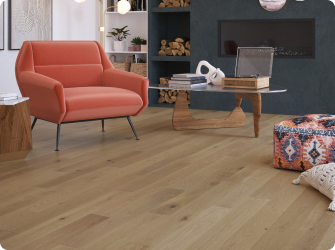 What are the Pros of Hardwood Flooring?
The primary benefit of solid hardwood flooring is its ability to retain a classic look
for years. With age, it can develop a soft patina which adds character and warmth
to any room.
The range of options available with hardwood flooring makes it one of the most
versatile types of flooring. Whether you prefer a rustic look or a contemporary
aesthetic, there is sure to be an option that suits your taste and décor.
Hardwood flooring is also simple to clean and maintain and is impervious to
allergens.
What are the Pros of Hardwood Flooring?
The main downside of solid hardwood flooring is the sensitivity to changes in temperature and humidity. Solid hardwood is highly reactive to temperature changes, expanding in humid and warm summers and contracting in cold and dry winters. This results in large gaps and squeaking noises.
Since hardwood flooring is not entirely waterproof, it must be handled carefully
and kept away from water. Hardwood is typically not recommended for any place
that attracts a lot of moisture, such as below-grade space (basement), full
bathrooms or kitchens.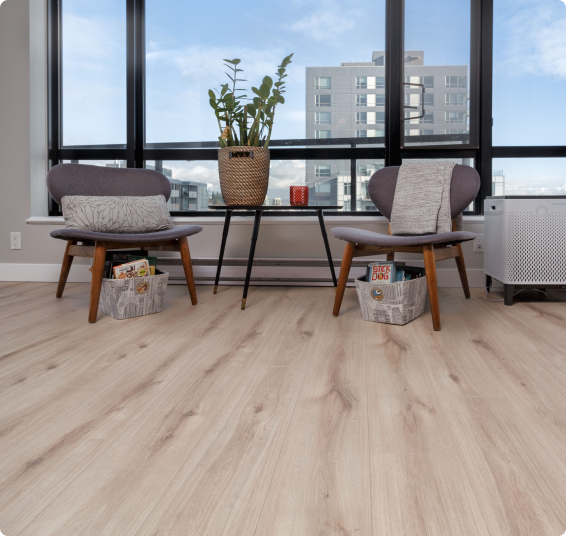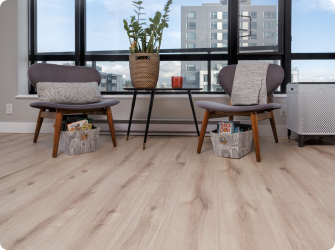 What is the Difference Between Hardwood Flooring and Engineered Hardwood Flooring?
Solid hardwood flooring is comprised of planks that are constructed from solid
wood, while engineered hardwood flooring consists of multiple layers of wood and
other materials. Engineered wood is less vulnerable to changes in temperature and
humidity than solid wood, making it a better option for areas with varying climates.
Additionally, engineered wood is more affordable than solid wood.
What Options Are Available with Hardwood Flooring?
There are various options available with solid hardwood flooring, including: 
Among the most significant selling points for hardwood flooring are its
attractiveness and durability. However, engineered wood may be better if you
have pets or allergies due to its lower susceptibility to scratching and allergens.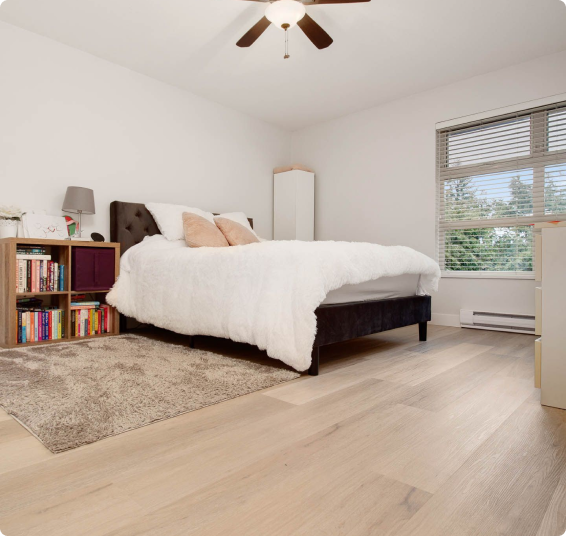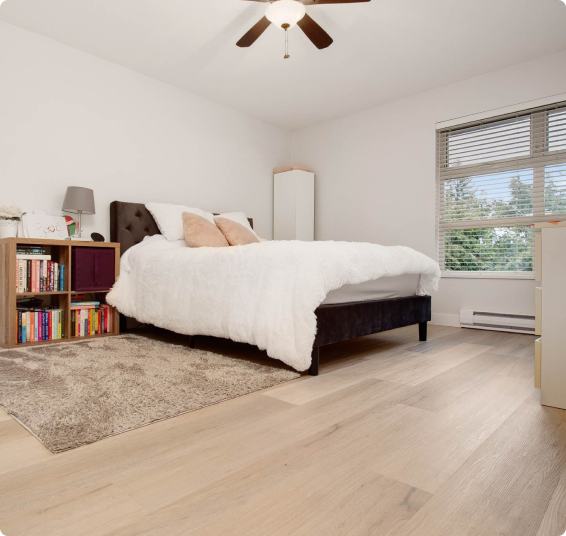 I'm Considering Hardwood Flooring, But...
Let's face it, children are a blessing, but they can be prone to spills and messes. If you have young children, engineered hardwood flooring may be a better option. Some engineered hardwood products are designed to be scratch-resistant and easier to clean, making it an ideal choice for active households.
Pets are great, but they can be tough on flooring. Spills, dirt, and scratches are unavoidable with larger pets and are usually a daily occurrence. You are highly encouraged to explore scratch resistant and 100% waterproof products.
I need flooring for my bathroom / kitchen / basement.
Hardwood flooring is not ideal for areas with high levels of moisture. Carpet, engineered wood, vinyl plank, or tile flooring may be a better option. Carpetis a popular choice for a finished basement, as carpets help regulate temperature and keep the room warm.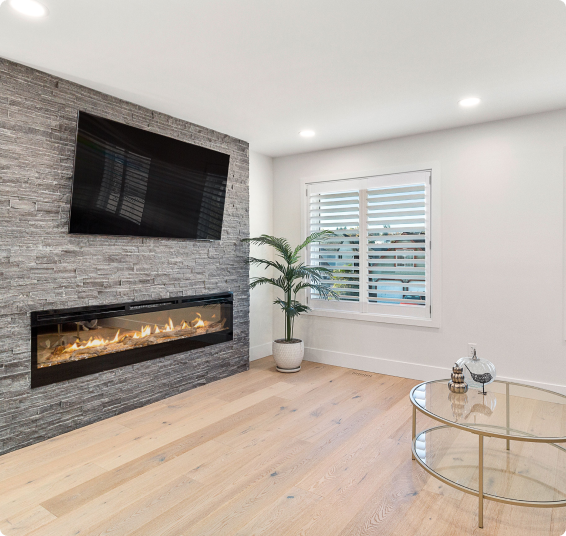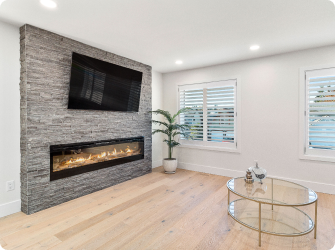 Full Service Hardwood Installation
Above & Beyond Home Concepts offers end-to-end flooring services, including
planning, design, installation, and refinishing. We take care of all project
management to ensure a hassle-free experience.
Our in-house milling service for custom parts and flooring allows for faster
turnaround times, fewer delays, and better quality control.
We are also equipped to handle staircase projects and more for your convenience.
Our Flooring Selection is
Sure to Wow You!
We carry a wide selection of flooring products, including hardwood, engineered
wood, laminate, vinyl plank, and tile. Our expert team can help you find the perfect
flooring to fit your lifestyle and budget.
Stop by our showroom in Burnaby; you'll be wowed by what we have to offer!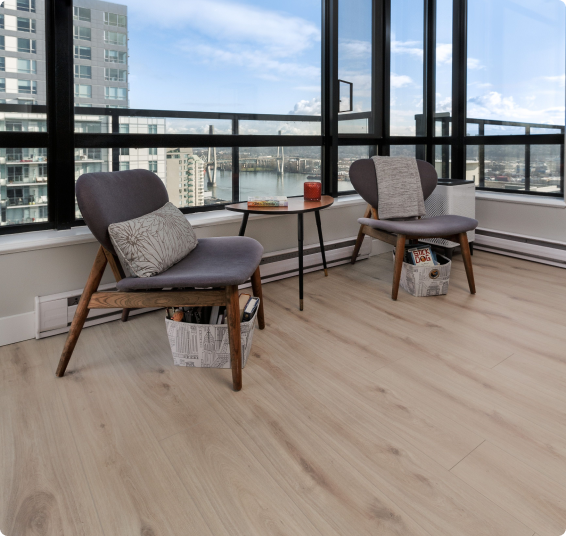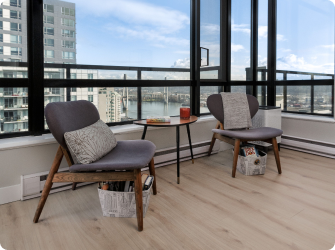 Come & Choose the Perfect Hardwood Floor at Our Showroom
At Above & Beyond Home Concepts, we specialize in providing the best possible
customer service. Our showroom features an array of displays and samples,
allowing you to explore different flooring options and get a feel for how they will
look in your home.
Our knowledgeable staff is ready to answer any questions you may have about
installation, refinishing, and more.
Get the best advice and make the right flooring decision for your home with Above
& Beyond Home Concepts!
Burnaby / New West / North Vancouver / West Vancouver / Coquitlam / Port Moody / Vancouver / Port Coquitlam / Maple Ridge / Squamish / Richmond / Delta / Surrey / Abbotsford / Langley / Sky-to-Sky / White
Rock