Kitchen & Bathroom Removal & Reinstallation For Aging Multi-Family Buildings
Above & Beyond offers tear-down and renovation services for old multi-family buildings, including rentals buildings, co-op housing and strata buildings. Our services include redoing and updating kitchens, baths, cabinets, vanities, and more.
We have the staff and capacity to manage simultaneous kitchen and bathroom remodels for multi-family buildings, including townhouses, rowhomes and apartment buildings.
We have extensive experience working with building & property managers, office complex operators and property owners. Manging multiple projects at the same time involves a lot of skill and experience and this is something we do well. We understand your most critical concerns for renovation and remodelling projects: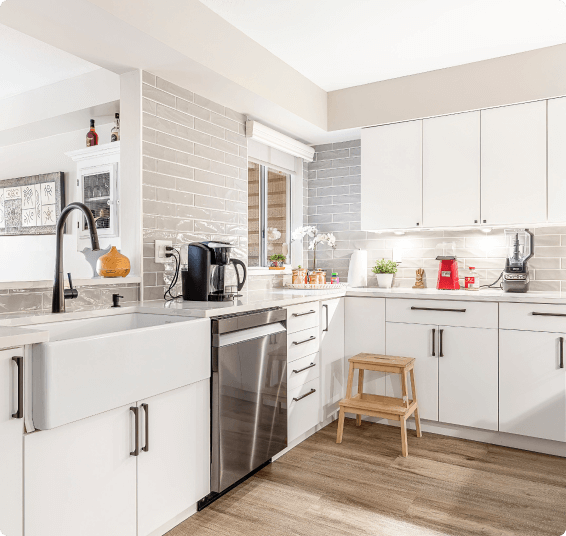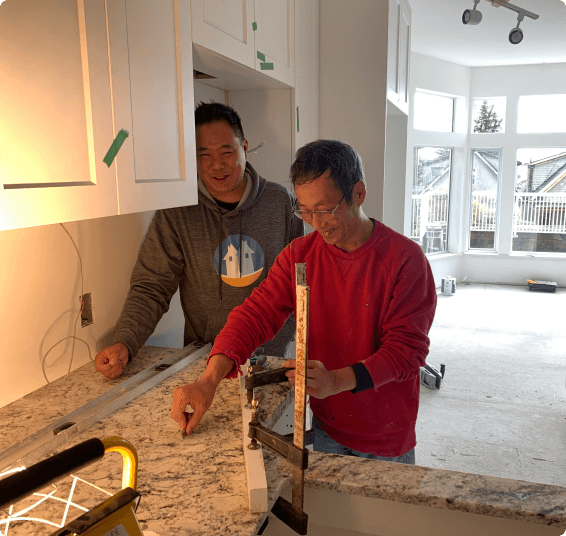 In-House Manufacturing Sets Us Apart
What sets Above & Beyond apart is our in-house manufacturing for cabinets, vanities and custom millwork. Having in-house production allows us to confidently provide project timelines and budgets without being at the mercy of third-party suppliers.
Kitchen & Bath Replacement For Old Buildings
Experience a professional kitchen and bathroom renovation process with our comprehensive services catered for multi-family buildings. From initial project design to meticulous execution, we ensure your vision becomes a reality while minimizing disruptions to building operations and tenants.
Our team specializes in creating functional kitchen and bathroom designs tailored to your specific needs. We work closely with you to maximize the value of your renovation, ensuring each unit in your building receives the upgrade that matches your budget
We meticulously plan project timelines to minimize disruption for your tenants. We aim to execute renovations smoothly, adhering to a well-structured schedule that ensures timely completion while maintaining high-quality workmanship.
With our dedicated in-house manufacturing team, we have complete control over the construction of cabinets, vanities, and millwork. Certainty over the timeline gives everyone the confidence for smooth project execution.
We take pride in our clean and professional approach. After completing the renovations, we thoroughly clean the work area, minimizing disturbances to building operation.
Our experienced managers handle all aspects of your renovation, coordinating with skilled trades and professionals. We have an on-site manager who responds swiftly to any unexpected disruptions or issues. You can trust us to ensure a smooth and successful renovation process from start to finish.
Contact Us Today For Old Buiding Renovations
With Above and Beyond Concepts by your side, you can rely on our expertise in large-scale kitchen and bathroom renovations for old buildings. We understand the unique requirements of building managers and real estate management companies, ensuring a hassle-free experience and exceptional results. Contact us today to begin your building's renovation project.